1000 degrees pizza in Sioux City, IA
Life of pie: 1000 Degrees Pizzeria heats up the competition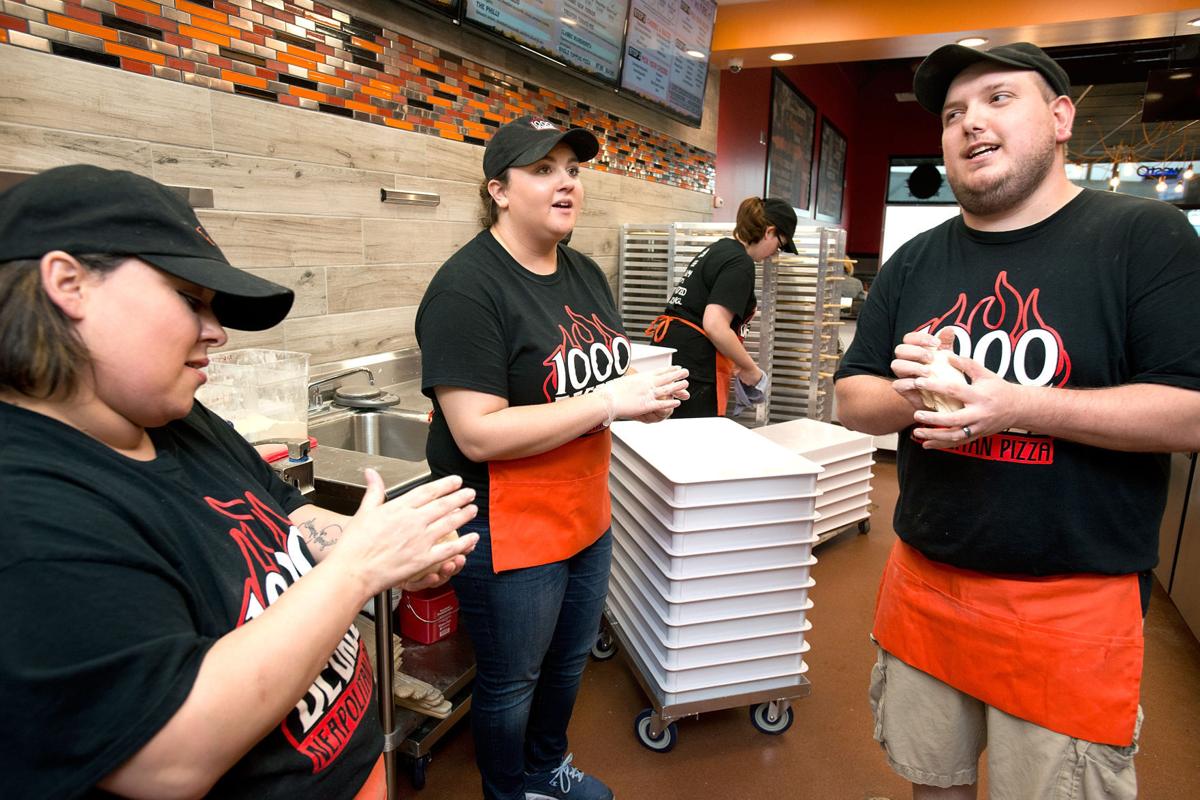 That's what Scott Salem, co-general manager of 1000 Degrees Neapolitan Pizzeria, told his employees a few days prior to the restaurant's May 18 opening.
"The dough must be soft and airy," he explained, "but it also has to have a good crust."
For the past several weeks, Salem, along with his co-general manager Jesse Miller, had been holding a pizza-making boot camp at 1000 Degrees' 1388 Hamilton Blvd., location.
Not only was it important to allow the hand-tossed dough to proof for 48 hours, it was equally important to have the freshest of ingredients.
After all, the 1000 Degrees — a 3-year-old New Jersey-based pizza chain — is known for featuring an incredible number of toppings.
"While we have more than 10 signature pizzas, we also offer unlimited toppings for one flat price whenever a customer wants to create his own pizza," Salem said. "For instance, a customer can choose the size of crust as well as a sauce, cheese, meats and a pick of any veggies."
"You can literally create a different pizza every time you walk into 1000 Degrees," interjected Miller.
Similar to a Subway or Chipotle restaurant, a 1000 Degrees customer will walk in and order through a build-your-own pizza type assembly line. The made-to-order pizzas are then cooked in a 1000-degree Neapolitan brick oven in just two minutes.
"That's the key," Miller said. "It may take a customer three minutes to personalize his order and another two minutes for the pizza to bake."
"So, in a little more than five minutes, our customer will have a piping hot  pizza," Salem added. "It's as simple as that."
Both Salem and Miller were formerly with Bev's on the River. Looking for a new venture, they were drawn to 1000 Degrees, a growing franchise with locations in more 20 states.
"Since Sioux City's 1000 Degrees is the first location in Iowa, we get to set the standard," Miller said. "Plus, it's exciting to bring this new concept to Siouxland."
Salem nodded his head in agreement.
"Our restaurant is fresh, fun and has really good pizza," he said with a grin. "I mean who doesn't like pizza."
At 1000 Degrees, pizzas come in 10- and 14-inch sizes in addition to a gluten-free crust that is available on request. Customers have the choice of ordering such signature pies as the Hawaiian Fire (Canadian bacon, banana peppers, pineapple, shredded mozzarella and a spicy Sriracha marinara); the Tuscan Chicken (grilled chicken, spinach, shredded mozzarella, asiago and marinated balsamic sun-dried tomatoes); and the Meatza (pepperoni, bacon, Italian sausage, crumbled meatballs, shredded mozzarella and a signature marinara).
"Our Buffalo chicken pizza is amazing," Miller said.
Not in the mood for pizza? 1000 Degrees also offers salads and customizeable, fire-roasted wings that come in six flavors.
As his employees makes practice pies, Salem is satisfied with their level of skill.
"Fast-casual restaurants are the rage across the country and what sets 1000 Degrees apart from the rest is the quality of our food and the quality of our people," he said. "Taken together, that's a winning combination."
For more information on the 1000 Degrees Pizza brand, or for franchise or investor relations, please visit the company website at www.1000DegreesPizza.com.
https://www.1000degrees.com/wp-content/uploads/2018/03/spring.jpg
720
960
globaladmin
https://www.1000degrees.com/wp-content/uploads/2021/02/1000-degrees-logo-NEAPOLITAN-VERTICAL-black-bg.png
globaladmin
2017-05-31 16:18:09
2018-03-22 16:28:05
1000 degrees pizza in Sioux City, IA